What We Do
The Kiwanis Club of Reisterstown and it's foundation, the Reisterstown Kiwanis Foundation, Inc a 501(c)3 charitable organization, conduct various service projects in our community and beyond. If you are interested in participating in one of these service projects, you can contact our club secretary at [email protected]
Key Club Sponsorships
Key Club is a student lead service oriented program that allows high school age student ways to learn leadership skills, how to work with others and to be a servant leader. The club has a school faculty advisor that works with the club's Board of Directors insuring that the program is within school guidelines and policies as well as being a mentor to all of the club members. We are currently sponsoring the following Kiwanis Key Clubs:
Franklin High School, Reisterstown, MD
Owings Mills High School, Owings Mills, MD
Builders Club Sponsorship
Builders Club is a student lead service oriented program that allows middle school age student ways to learn leadership skills, how to work with others and to be a servant leader. Our Kiwanis club brings in food and treats and recognizes, supports and encourages the kids, through example, so they feel empowered to do great things in their communities. We support Builders Club service projects, facilitate the Builders Club meetings, provide mentorships. We sponsor the following Kiwanis Builders club:
Franklin Middle School, Reisterstown, MD
Kiwanis Terrific Kids Program
This program allows teachers to have an incentive program for their students other than just grades. Attendance, homework, assisting others in class and much, much more can be used to recognize one or more students each month, each quarter or each year.. We are currently sponsoring the following Kiwanis Terrific Kids clubs:
Deer Park Elementary, Randallstown, MD
Glyndon Elementary School, Reisterstown, MD
New Town Elementary, Owings Mills, MD
Dictionary Project
A printed dictionary becomes a very valuable tool for third graders. Our club provides, at no cost to the student, a 524 page dictionary in 7 seven elementary schools in our local communities. This is not only a dictionary but a world of information about the solar system; detailed information about of our 50 states, the Bill of Rights and our US Constitution, and much, much more. A very valuable book for curious third graders.
Key Club Scholarships
For the past 25 years our club has provided scholarships to graduating seniors from Franklin and Owings Mills High schools. Funds are generated from our various fundraising projects during each year.
Christmas Baskets
Each year we provide enough food for a great Christmas dinner for several families along with 4-5 wrapped Christmas presents for each child in the family. It is a joy to see their smiles when all of this is delivered to their home just prior to Christmas Day.
Safe Sitter Program
Baby sitting is not an easy task for 12-14 years olds to learn from home. We in conjunction the St. Joseph Hospital conduct an 8 hour intense training class that teaches these students the "in and outs" of baby sitting. From how to changing diapers, what to do if the parents come home drunk, to CPR. They have hands-on training on many activities and then a final written exam of 50 questions before they are awarded the Safe Sitter Certificate. This program is on a needs basis only.
Community Paper Shredding
For the past 8 years we have provided free papers shredding to our communities on the Saturday after April 15. This allows businesses and families to shred their past tax returns and other expired documents right before their own eyes. We have filled a shredding truck six out of the eight years we have been providing this service.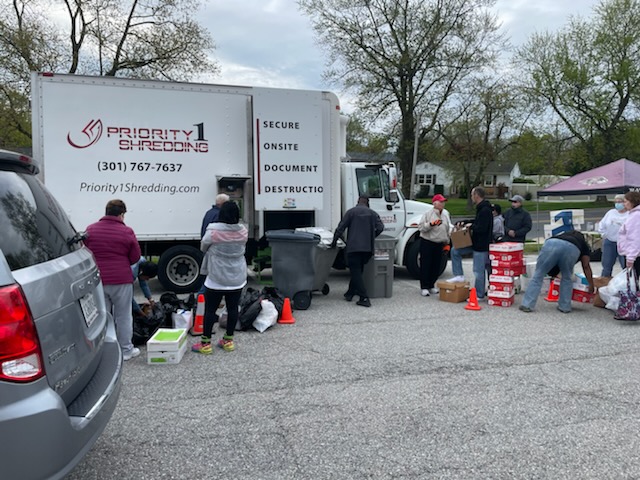 Hospital Doll Program
When a child sees a doctor or is admitted to a hospital for a illness or pain in their body, they many times cannot explain where their pain is. A stuffed doll with arms and legs like the child can be used to have the child tell the doctor where the pain is by pointing to the doll. We make these dolls from scratch, cutting them out of mullen, sewing the front and back together, then stuff it with a non-allergic filler. We then attach a water color pen so the child can put a face to the doll and decorate it as they choose. This many times becomes their closest friend while in the hospital.
For more information about these and other service projects, please contact the club secretary at [email protected]